Software of Excellence Blog
Meet the CSC team: Jonathan
Our CSC (Customer Success Consultant) team helps transform thousands of dental practices each year into great businesses. With extensive product and best practice knowledge, they are here to help you achieve your goals and ensure you get the most out of your EXACT dental software.
Whether you're a new or existing customer, the Customer Success Programme will form a large part of your journey with Software of Excellence. In this series, we will be introducing you to our team of dedicated consultants.
Today we're meeting Jonathan!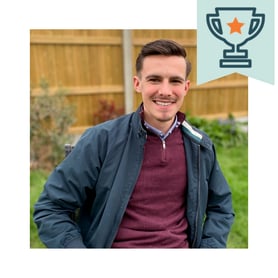 Who is Jonathan?
I'm Jonathan (or Jono) and I've been at SOE for just over two years. I'm a very social person and I love spending time with other people and helping them achieve. I enjoy playing football, tennis, skiing and kayaking - all with varying degrees of success. In my spare time, you will find me reading, at church, at the pub or watching West Ham!
What's a success story that you're proud of?
While I have been at SOE, I have worked within three different teams so have developed a really good understanding of how each part of the company comes together to provide excellent results for our customers!
What excites you about being a part of the Customer Success Team?
I love being able to see the impact that my work has as well as build relationships with the practices that I work alongside. As a CSC, I am able to work with really exciting practices and help them to implement changes to increase the number of patients that have access to their services, whilst getting to know some great people!
Favourite SOE feature?
I am a massive fan of Patient Portal. I was part of the team that helped to roll it out to a large number of our practices during the first lockdown so I have seen first-hand how it has transformed the way so many of our practices operate on a daily basis. Patient Portal saves time and helps practices to capture accurate information but most importantly, it also provides a seamless experience for the patient.
Favourite work-from-home snack?
Salt and Vinegar Pringles until I've burned my tastebuds off.
Speak to our team today to learn more about the impact that the Customer Success Programme can have on your business.