Software of Excellence Blog
Are you making these mistakes in your practice?
Here's why you could be losing out to competitors in 2023
When a patient wants to make a booking at your practice, what do they do? If your answer is they call the practice, you could be running into a series of problems without even realising it.
Let's look at two common scenarios for your dental practice:
Scenario 1: A patient calls the practice, and the receptionist books the patient in.
The problem - A booking was made but how long did this take? Let's say the call lasted for two minutes, if 20 bookings are made a day that adds up to 27 hours per month. Meanwhile, a patient could be waiting at reception to be checked in, with no warm welcome.
The solution - Free up the phone lines for your reception team with an Online Booking system. Doing so will enable general enquiries to be answered that could be missed if another patient is on the phone making a booking. Not only this, but the extra time earned back will enable an enhanced patient experience for those in practice, something that is now valued more than ever and could reflect on your reviews and overall practice reputation later down the line.
Scenario 2: A patient calls the practice and there is no answer.
The problem - In a 2022 survey by Software of Excellence, this was the reality for 46.7% of calls in normal operating hours. This can lead to the patient looking elsewhere, becoming frustrated with your services and ultimately losing out on potential business.
The solution - We understand that your practice is busier than ever so not every call can be answered. Therefore, by offering your patients an alternative that allows them to book an appointment online at a time that's convenient for them (even out of practice hours), you will be giving patients the experience they are looking for from the very first touchpoint – with even less input from your admin team! (And no more phone ringing off the hook)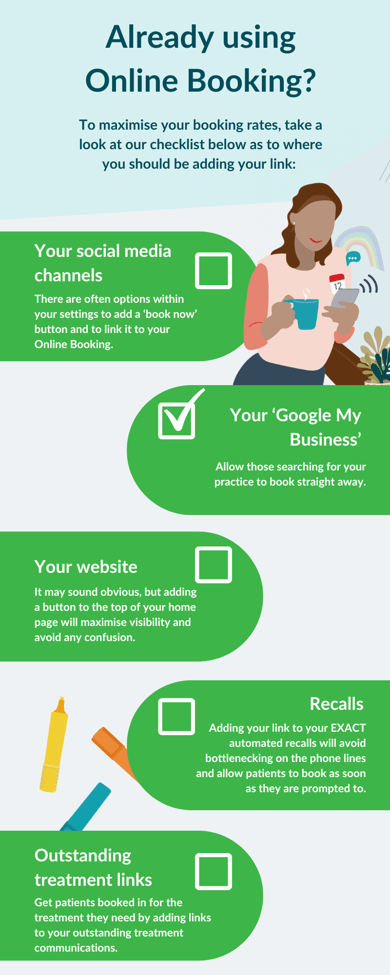 The shared problem in these two scenarios is that no alternative was offered, the practice assumed that phone-based booking was their patient's preferred method and therefore problems arose. Does this resonate with your practice?
In fact, according to a Gartner report healthcare is the number one service people want to book online, even when all options are made available. This implies that if a new customer is searching for a new practice online, they would be more likely to book through the practice that offers Online Booking as opposed to the one that doesn't. And yes... this does apply to the older demographic!
'Baby Boomers', those born early 40s to mid-1960s, buying habits are not all that different to millennials:
82.3% belong to at least one social media site… usually Facebook

Spend 27 hours per week online, which is two hours more than under 35s

46-59%+ have a smartphone

35-41% have a tablet
So whatever the demographic of your patients, are you appealing to their expectations?
Discover more of the benefits that Online Booking can bring to your practice, patients and team by visiting our Online Booking page today. Looking to implement it in your practice or receive more best practice advice on how you can optimise Online Booking?