Software of Excellence Blog
Patient Experience in a Changing Landscape: is patient experience still a priority for UK dentistry?
It's clear that a series of unrelated circumstances are impacting on UK dentistry right now. Having negotiated the challenges of the pandemic, increasing wage demands, staff shortages, high energy costs and rising inflation are now combining to create yet more pressures on practice teams and causing some practice owners to reconsider their priorities.
At Software of Excellence, we have set out to see just how the patient experience is faring in the current climate in our new White Paper "Patient Experience in a Changing Landscape". Is it still an important factor for owners, managers and staff, or are external pressures causing a change in attitude?
Attracting patients
Despite the difficulties currently facing both NHS and private practices, it appears that the patient experience does indeed still matter, and awareness of its role in attracting new patients is key to practice success.
According to the White Paper, top of the list for attracting new patients is 'Friendliness of the team', considered most important by nearly a third of respondents. Appointment availability also matters, but more so for NHS practices with 16% versus 9% of private practices placing it in the 'most important' category.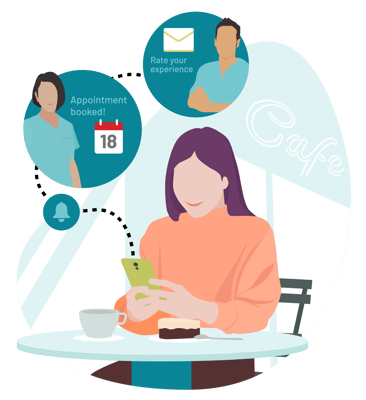 A practice website also plays its part. Although sometimes overlooked when it comes to improving patient experience, 'Finding the practice' (56.3%) and 'Contacting the practice' (57.6%) are the most used and popular choices.
Patient recommendation
Personal recommendation is of course an important factor in attracting new patients, considered to be 'most important' by 56.5% of respondents. However, it appears the connection is lost between 'personal recommendation' and the role of 'online reviews'. Only around a third of respondents regularly ask for patient reviews, leaving 63.5% doing so only on an ad hoc basis - an important tool in gaining new patients is clearly being ignored.
Online booking
Unsurprisingly, our survey found the vast majority (95%) of respondents use the phone to take appointment bookings, with almost 85% asking patients to book their next appointment before leaving the practice. And reverting back to pre-pandemic days, respondents' practices are heavily reliant on reception teams for patient check in (90.2%).
There is an increased uptake in online booking, but this is still being used in addition to, rather than a replacement for other methods. Form filling away from the practice is also on the rise, with just over half of respondents (50.3%) asking patients to complete this task before attending the practice.
Using technology
Technology that uses dental software for tasks such as online booking, remote form filling and gathering patient reviews helps improve practice efficiency as well as enhancing the patient's personal experience. The White Paper concludes that these tasks should not be viewed independently, but instead be used together to improve all areas of the practice.
Although it's easy in the current climate to assume that patients simply want just to be seen by a dentist to get the treatment they need, this view is not beneficial in the long run. Many processes that were adopted during the pandemic improved performance and boosted the patient experience. However, many of these have now been abandoned meaning practices are missing out on many positive practical measures that would be better kept in place.
What can be done?
In these uncertain times, it's important to take a proactive approach that puts patient experience at the top of the agenda. Patient care is always a priority but taking time to consider the patients' journey and making the most of the technology and dental software that can reinforce it, is a significant way to develop a more efficient practice with a brighter future.
By putting patient experience first, practices can work to attract and retain patients more easily, which ultimately leads to stronger business growth. Practices that are working to integrate systems that achieve this and put themselves ahead of the competition are already gaining a competitive advantage, and with the help of Software of Excellence, every practice can be a part of this.
Software of Excellence's new White Paper 'Patient Experience in a Changing Landscape" is now available: read in full and download your copy today.