Software of Excellence Blog
The Power of PX: Opening the door to a brighter future
It goes without saying that the past two years have been more than a challenge for UK dentistry, with the consequences of the pandemic impacting every aspect of practice life. Differing guidelines, which have constantly shifted across the different regions of England, Scotland, Wales and Northern Ireland, have made it difficult to keep up with the regulations for a public and profession that is now truly COVID-weary.
But despite the struggles and frustrations, it's been proven by public demand that dentistry is an essential service. What has also become clear is that practices of every type and in every area have demonstrated their initiative by adapting and adjusting to new ways of working in a world alongside COVID.
The changes afoot
In the early days, dealing with the effects of the pandemic was hugely disruptive and very disconcerting, but the intervening two years have provided an unexpected opportunity for practice owners to reflect and actively grow their businesses. This has been bolstered by the accelerated growth of online interaction and communication with patients, using the power of technology to radically change the way in which practices operate.
Putting patients first has always been at the heart of dentistry but COVID has made delivering this mantra in a practical sense more challenging, in the face of severe limitations to access in some sectors. Dentists have had to find more innovative ways to deliver outstanding patient experience and employing new technology has helped many of them to successfully achieve this goal.
The traditional notion that face-to-face contact is the cornerstone of great customer service has been challenged. Patients are now more likely to demand a fast, efficient, streamlined service, which paradoxically often involves less personal contact. By adopting technology that creates the conditions for an outstanding patient experience a practice can set itself apart, streamlining its operations and alleviating time-consuming and mundane tasks.
The COVID effect
A recent survey1 showed that 95% of respondents felt that patient perception of the profession as a whole had been affected by the pandemic. NHS practices reported a slightly more negative impact, most likely due to longer waiting lists as a result of closure, and lower capacity due to the impact of fallow time.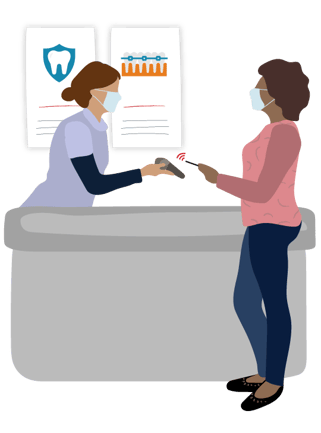 Overcoming this negativity requires practices to be innovative, imaginative and above all positive. Retaining some of the processes that were adopted due to COVID regulations doesn't mean compromising efficiency, quite the reverse. Online booking, remote form filling, contactless check-in and departure and contactless payment, all significantly improve the patient experience. These examples enable patients to be in the practice for the shortest time possible, recognising that 'time' is an important asset for patients, just as it is for the practice.
Pandemic to endemic
As we all learn to live alongside COVID it's becoming evident that practices owners and their teams, as well as their patients, want to move on and be more optimistic about the future. The surge in demand for dental treatments, seen in the early days post-lockdown, has continued, not only for routine and preventive care, but also for elective and cosmetic treatments. This trend is likely to continue as people re-emerge and return to their much-missed work and social lives.
The technology to streamline patient experience and transform the practice workflow is already here, along with expert advice to navigate the new technological and social landscape. Now is the time for practices to make positive changes and work to deliver a new standard of care with an emphasis on understanding not only what patients need, but also what they want.
To find out more about improving practice efficiency and profitability and the rise of 'experience culture' in UK dentistry, take a look at our latest Whitepaper 'The power of PX - the rise of experience culture in UK dentistry' - available to read and download here.
1 Software of Excellence. Patient Experience Survey. August 2021.