Software of Excellence Blog
Acceptance of technology
The digital divide – fact or fiction?
What's the first thing you do when you wake up? Clean your teeth? Cup of tea? Or are you one of the 65%1 who, as soon as they open their eyes, reach immediately for their smartphone and catch up on what they've missed in the last 8 hours?
The fact is that people LOVE technology and it's becoming clear that this includes young and old alike.
Growth in internet use amongst older people (65+) is rising markedly. As far back as 2018, ONS statistics2 reported the digital gap between younger and older generations was narrowing. This is likely to have reduced even further during the last 12 months, as older people have turned to technology as their only way to maintain contact with families. "To Zoom" is a verb we can all now conjugate, but the reality is that this technology is now firmly rooted in the living rooms of the older generation, who have been 'forced' to learn it, embrace it and love it.
Who's using technology?
Contrary to popular perceptions, pretty much everybody uses some form of technology in their daily lives. In the last decade technology has moved rapidly from the peripheral to the mainstream, as broadband coverage in the UK has brought the means of access directly into our homes and smartphones have put technology at our fingertips.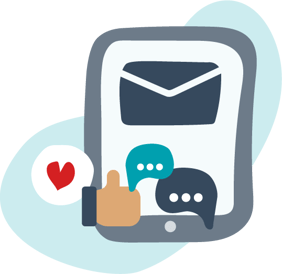 According to Deloitte, around 84% of adults now own a smartphone and whilst internet access via a mobile device is lowest in the 65+ age range, well over 75% of all other ages access the internet in this way.
Exploding the myths
Age as a factor in technology uptake is a myth and is becoming less relevant with every year that passes. In the future fewer patients will be resistant to technology and, as the last 12 months have demonstrated, once people can see the benefits, they will accept, and even welcome, the change.
The pandemic has forced patients to adopt processes that mean less time spent in the practice, and a reduction in face-to-face contact, but some aspects of the 'new normal' have been happily accepted. In a consumer survey conducted by Software of Excellence in December 20203, we found that 66% of those who said they preferred to complete forms electronically, either in the practice or from home, were over the age of 55.
Two-way interaction
When people interact with a business, whether face-to-face or online, they want the encounter to be efficient, streamlined and result in a positive feeling for both parties and it's no different in a dental practice. If a patient feels nervous, the last thing they want to be faced with is the rigmarole of form filling before their appointment. So, by providing the alternative of remote form filling, via a secure, user-friendly patient portal you are in fact providing an improved more empathetic service.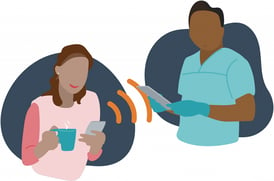 Software of Excellence's dental software includes a patient portal, which is a central feature in providing a 'contactless patient journey', giving patients full control of their personal information. From this secure, online hub patients can receive, complete and submit forms (including Smile Surveys and Medical History) directly from their mobile device. They can confirm appointments and check-in remotely when they reach the practice and you can automatically triage patients, confirming they are COVID-free, before they attend.
What are you waiting for?
Patients are not only ready for technology they positively want it, and this is clear from the growing influence technology is having on all our lives. It's easy sometimes to avoid change, but if the last 12 months has taught us anything it is that we are highly adaptable and willing to embrace change if we can see its benefits. Many practices are now providing an improved patient experience thanks to technology and having come this far they see no reason to turn back.
Make the contactless patient journey the centrepiece of your practice – learn more or call the Patient Portal team on 01634 925661
1 A decade of digital dependency. Ofcom. August 2018
2 Exploring the UK's digital divide. Office for National Statistics. March 2019
3 The Great Dental Survey. Software of Excellence / Manan Ltd. December 2020