Software of Excellence Blog
How to: Drive treatment uptake in your private practice
With demand for dentistry at an all-time high, it's now more important than ever that practices strategise to ensure that they're not just acting as a 'conveyer belt' for patients but instead that they plan accordingly to maintain a drive for key performance indicators (KPI's).
For private practices, this demand presents itself as a significant opportunity to increase uptake of high-value treatments. In today's blog, we're going to be taking a look at exactly how you can improve uptake in your private practice using our four step method:
Listen to your patients

Allocate the correct time

Gain commitment

Review
1. Listen to your patients
How many times has one of your regular patients arrived at check-up having had a new treatment elsewhere?
The reality is, if you're not presenting your patients with the opportunity to express their interest of any treatments or current oral health concerns, you could be losing out on business to competitors every day.
Smile Surveys are a great way to make this conversation more comfortable and convert interest into uptake without coming across as 'salesy'. Despite being optional, they are something that should be encouraged for every patient to complete and the use of Clinipad and Patient Portal alongside each other makes this process as hassle-free as possible. Enabling your patient to complete the form electronically either prior to or when they enter the practice means that their responses sync automatically with EXACT – ensuring that your clinical team are equipped to start a conversation as to which treatments could be beneficial to their needs once they're sat in the chair.
2. Sufficient time scales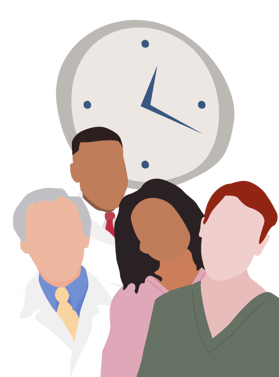 Great, you've had the conversation and your patient wants to get booked in for a treatment. Being able to provide them with an appointment ASAP is essential to not only increase overall patient satisfaction but to again ensure that you're not losing your patient to a competitor who could undertake the treatment sooner.
By zoning your appointment book to leave sufficient time for emergency, recall, restorations and cosmetic appointments you can feel confident that you can provide the treatment that your patients need, exactly when they need it.
For best practice support on how to best manage your diary, contact our team today.
3. Gain commitment
If your patient leaves the practice without a booking, you could be faced with several barriers:
The patient forgets to call back or book online

The opportunity arises for them to do independent research and book elsewhere
Therefore, gaining commitment from the patient while they're still in-practice is crucial –this can be done by introducing:
Treatment plans that can be signed before the patient even leaves the chair - Clinipad allows the patient to sign and fill in any mandatory details electronically.

Prompts through Workflow Manager, informing your reception team to make the booking.
4. Don't stop there
Are you sitting on dormant revenue without knowing?
Although attracting new interest when it comes to treatment uptake is extremely important, nurturing the interest that you've already generated should remain a priority.
Care Manager automatically provides you with the details of any incomplete treatment plans that may have previously been forgotten about, allowing you to follow up and get patients booked in for the treatment they need ASAP, without the need for running timely reports. Follow up communication with Campaign+ also means that you'll be optimising for maximum engagement with timing and messaging, with results easily trackable.
Looking for more tips on treatment plan uptake or would like further support on how you can implement these workflow changes in your practice? Contact our team today to find out more or visit us at our upcoming Practice Growth Workshops.