Software of Excellence Blog
Meet the CSC team: Robert
Our CSC (Customer Success Consultant) team helps transform thousands of dental practices each year into great businesses. With extensive product and best practice knowledge, they are here to help you achieve your goals and ensure you get the most out of your EXACT dental software.
Whether you're a new or existing customer, the Customer Success Programme will form a large part of your journey with Software of Excellence. In this series, we will be introducing you to our team of dedicated consultants.
Today we're meeting Robert!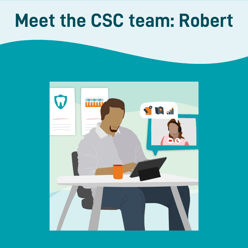 Who is Robert?
A consummate Healthcare IT professional with a passion for using data and technology to advance health and healthcare. But apart from that – a lifelong "biker" and a retro/vintage enthusiast. Married, 4 kids, 2 grandkids, 2 springers and a cat!
What's a success story that you're proud of?
Being instrumental in setting up Software of Excellence in the UK in 1994 and seeing the company grow and exceed all expectations.
What excites you about being a part of the Customer Success Team?
Being able to help all practices and owners survive and thrive especially during these difficult times through passing on my knowledge of the great features in EXACT coupled with the knowledge of the Business of Dentistry that I have built up over the last 27 years.
Favourite SOE feature?
Patient Portal - because of the great functionality it delivers to all, especially in these Digital times.
Favourite work-from-home snack?
Almond Croissant and Chocolat Chaud.
Speak to our team today to learn more about the impact that the Customer Success Programme can have on your business.