Software of Excellence Blog
Path of Excellence: Retain and Attract Staff
In a period of extreme dental demand and dental staff shortages, it's clear that action needs to be taken, and soon, to meet the oral health care needs of the nation – this is where the discussion of staff retention and attraction comes in.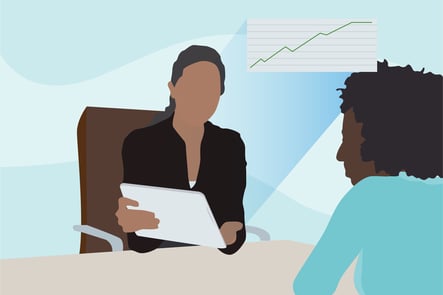 To get to the root of how you can attract talent, you need to ask the following question: 'what are people looking for in a dental role?'

In times where the largest proportion of the working generation are millennials, we can draw on several conclusions – people are looking for:

1. Variety in their working day

2. Progression opportunities

3. Financial return


So let's break this down...

Variety with task automation

As the world opens back up post-lockdown, there's no denying that the popularity of cosmetic dental services has skyrocketed.

As dental leaders, investing in the right technology that will support the delivery of a wider range of high value treatments is absolutely vital in not only attracting in-market patients, but potential employees too.

With tools such as Online Booking able to optimise the clinician team's diary, your team will feel confident in their time capabilities to drive a wider range of high-value treatments which can ultimately benefit both your staff and practice:
Greater staff engagement, particularly associates

Higher income revenue for your practice
Progression opportunities with performance transparency
To progress in any role, you need to be able to demonstrate any strengths and 'wins' in your performance. Keeping track however in a role as demanding as dentistry can be both time-consuming and challenging, however, at Software of Excellence we want to streamline this process so your team can prioritise growth and development with performance transparency.
Dentist Portal enables practice members to drill down on individual KPIs, including patient numbers and recall effectiveness, without having to request or sift through copious amounts of reports and records. Paired alongside MyPractice Cloud, both you and your associates can view how individual performance fit into the overall success of the business – in turn, promoting staff empowerment, morale and focus!
Financial return with a thriving patient base
As referenced in our previous 'Retain and Attract' blog, the success of your practices replies on retaining existing patients and attracting a steady flow of new people. Without this, your team simply cannot undertake the work they strive for and may turn to look for employment elsewhere with greater financial return.
Optimising communication with your patients via:
Powerful reviews

A website that is fit for purpose

Effective and automated recalls

Well thought out marketing campaigns

Customised, multi-channel messaging
Will equip not only your clinical team with the patient base they require but your admin team with effective, sustainable workflows.
Discover more about how you can build and maintain your greatest asset with Software of Excellence – get in touch with our team today.