Software of Excellence Blog
Automated Recalls: Convenience meets commitment
As a practice owner, you will know only too well the detrimental effect that missed appointments can have on the health of both your patients and your practice. With automation, recalls will be handled entirely by your EXACT software, providing you with the time you need to focus on providing excellent dental care.
Keep them coming back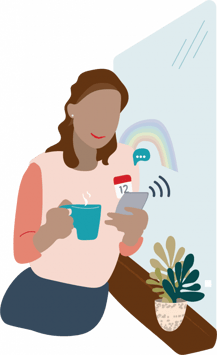 At Software of Excellence, we understand that forming a steady stream of communication is the key to increased patient loyalty and retention - this is something that can be difficult to achieve when your workflows rely on manual input. Automated Recalls allow you to pinpoint and subsequently reengage with lost patients in order to keep on top of check-ups and treatment plans, all with minimal effort from your reception team. Integrating seamlessly with your Online Booking system, your patient can act upon receipt of a recall message immediately and book their visit at a time that suits them. This added convenience will ease the pressure on your admin team and reduce patient frustration associated with constantly engaged phone lines with other patients looking to act on recalls too - supporting your practice in keeping your appointment book full and thus protecting the oral health of your patients.
Smart scheduling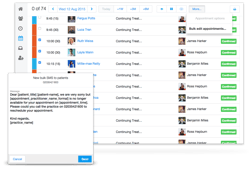 With fully customisable messaging, you can ensure you are delivering communication in a way you want your practice to be heard. This feature allows you to regain control of the time, frequency and channel you'd like your messages to be delivered by enabling you to make adjustments that will best target your patients, regardless of their available/preferred communication methods. Extending your professional branding to every stream of communication, including recalls, will position your business as both an integral and trusted part of your community - encouraging your patients to keep on top of regular check-ups and fulfil treatment plans.
Support is always on hand
Introducing new workflows can bring a wave of uncertainty to your practice, this is why our specialised teams are here to help you. With extensive best practice advice and insider knowledge, you will feel confident to formulate a recall strategy that will maximise your time and increase conversion rate - ensuring more patients are seen and those all-important smiles are being looked after.
The UK national average for recall effectiveness is around 58%, for sites using EXACT Recall automation, we regularly see sites achieving between 75-85% when practices follow recommended setup/advice.
Step one of ensuring that your patients maintain a healthy smile is ensuring that they attend their upcoming dental appointments. Automated Recalls from Software of Excellence, allow you to give patients the friendly nudge they may need, without adding another task to your reception team's already long list of admin.
Get in touch today via 01634 925681 to speak to an SOE consultant and find out how Automated Recalls can combat:
Overdue/ forgotten appointments
Redundant space in your appointment book
Abandoned treatment plans
Late diagnosis of critical oral health problems