Software of Excellence Blog
Practice efficiency and technology hand-in-hand
Business efficiency is a topic of much debate at the moment. As the country enters a period of industrial turmoil, the call from business owners is to introduce technology to drive efficiency.
As always in such cases there are loud voices from either side, of what can be, a very wide spectrum and of course, somewhere between the two extremes lies common ground. The question is - how do we reconcile the introduction of technology that will undoubtedly drive efficiency, with the need to keep people and personal contact at the heart of our most important businesses?
Efficient use of human resource
Dentistry is already embracing technology in many areas, transforming both treatment delivery and the patient experience. Impression taking, x-rays, restorations and surgical dentistry have all undergone immense change in recent years and a patient's interaction with their practice is, in many cases, unrecognisable from that of even a decade ago. This willingness to embrace the advances in technology are helping deliver, not only more efficient practices, but also ones that put patients first.
Automation is playing a crucial role in this progress and first and foremost it's vital to understand that automation is not about reducing the number of staff in a practice. Rather it is about using human resource for the most important elements of a job – for those tasks that cannot be replaced by technology, such as patient interaction and problem solving.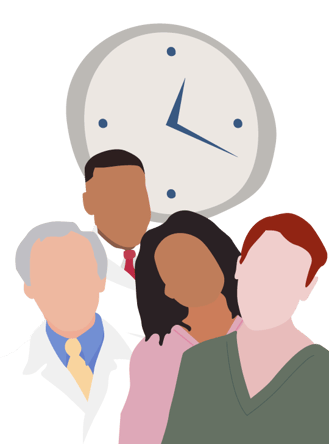 Staff shortage
NHS dentistry in the UK currently faces a dilemma – too many patients chasing too few appointments. Fewer dentists, nurses and receptionists due to an overall shortage of labour in the economy, coupled with the backlog legacy from the pandemic is causing real tensions within a system that is overheating. Over demand is the cause of many issues, in terms of stress, health and well-being of the team and general dissatisfaction with the status quo. Overcoming the challenges caused by these macro issues is unlikely to be solved by an individual practice, but there are things that dentists can do to work smarter, use their scarce human resource in the most effective way and alleviate some of the worst symptoms of the current stasis.
Appointment book zoning
Amid the clamour for check-ups, practices often try to keep pace with patient demand by scheduling back-to-back examinations, leaving little room for patients who require subsequent treatment. The result of a practice's inability to provide ongoing care in a timely manner causes frustration for patients and stress for providers. The solution is to step back from the chaos, review the data and zone appointment books in order to leave sufficient time to see patients requiring actual treatment.
How do you make a practice more efficient?
For patients unable to access NHS treatment, the lure of private practice is an option which is creating an even more competitive environment in this sector. For all practices creating a seamless patient journey is about meeting patient expectations, but it is also about differentiating your services from others.
Technology dictates that patients expect to be able to book an appointment online, just as they are able to do with their favourite restaurant or at the opticians. Then, by taking some of the administrative tasks out of the practice environment, you can reduce the amount of time a patient needs to spend in the practice. This improves the 'waiting room' experience and takes account of the value of patients' time. Practice efficiency is not necessarily about speeding up treatment time but about streamlining all the peripheral, but necessary elements of a dental appointment, leaving more time for the clinical aspects and reducing the frustrations often experienced at the front desk.
The role of data
In times of uncertainty, people tend to take refuge in the stability of facts and figures. The same sense of conviction can be gained from the data held about your business within its dental software system.
By regularly monitoring data we can provide 'early warning' of anything within the key metrics that might not look right. Utilisation, for example, is a crucial performance indicator and historic data will tell us utilisation rates for each surgery in the practice. By reviewing this data monthly, you can immediately see if rates fall off and investigate the reasons for any change.
Knowledge is power
The technology genie is firmly out of the lamp and our challenge is to exist harmoniously and productively side by side, appreciating the benefits that technology can deliver without side-lining a practice's most important asset – its people. It follows that if a practice runs efficiently and smoothly, patients will have a better experience and staff will be happier and less stressed, which in turn leads to greater productivity.
Using business data intelligently not only gives practice owners a complete overview of the facts about their business but importantly provides the knowledge to be able to spot if things start to go wrong. Early intervention is key to arresting decline and resolving small issues before they become bigger problems.
Gain sight and full visibility of your practice performance with the help of the experts at Software of Excellence, contact us now.
You can listen to the thoughts of Software of Excellence Managing Director Ben Flewett in his latest podcast, which is also available on all major podcast platforms, including Apple Podcasts, Google Podcasts, Spotify.